Classic Film Club
Third Wednesday of Each Month
Country: Sweden
Director: Hannes Holm
Writen by: Hannes Holm, screenplay; Fredrik Backman, novel
Genre: Comedy, drama
Running Time: 1hr 56min
Date: September 20
Time: 11:30 Am
The LWC Classic Film Club will next meet on Wednesday, September 20 at 11:30 AM to screen A Man Called Ove, a 2015 film from Sweden based on the novel by Fredrik Bachman.
Ove is a bitter, unlikeable man forced to retire from his job and living a lonely life in Sweden until a young family with children move in next door and change his life. This dark comedy, with subtitles, was nominated for an Academy Award as Best Foreign Language Film.
If you plan to attend, RSVP to this month's hostess, Larraine Warren at 480-282-0360.
The Classic Film Club meets in the upstairs lounge the third Wednesday of the month except in summer and the holidays. After a friendly pot luck at 11:30 AM, they screen a classic film. So if you're into film with a classic attitude, call the monthly hostess and give an RSVP.
Join The LWC For Thirsty Third Thursday!!!
All Lakes Residents and Their Guests Are welcome!!!
721 N. Arizona Ave, Suite 103
Gilbert
480-497-2739
Thursday, September 21
5:30 PM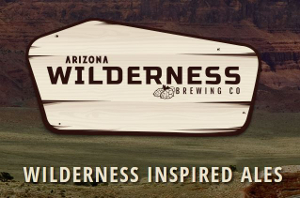 Jane will be your greeter at The Arizona Wilderness Brewing Company on Thursday, September 21 at 5:30 PM. The Wilderness Brewing Company is located at 721 N. Arizona Ave, Suite 103 in Gilbert; phone number 480-497-2739. You won't want to miss this fun-filled Happy Hour event. Wilderness has a casual, friendly atmosphere with both indoor and patio seating . The Brewing Company is the first craft brewery in Gilbert, serving a huge variety of beers along with a food menu of American fare.
All are welcome as we socialize with neighbors and friends, and enjoy the great food and beverages they have to offer. You can view the full menu, as well as their hours of operation at their website wildernessbrewingcompany.com. The restaurant is open seven days a week, and offers Happy Hour daily from 3 to 6 PM.
Everyone deserves a break from our busy schedules, so come on over, sit, chat, enjoy! Please come, even if you are solo. Just look for us at the group table. Ask the staff to point us out. We hope to see you then!
Submitted by Jane Morrissey
Out To Lunch Bunch Going to Cupz N' Crepes
Circling the Globe for Lunch
4232 E. Chandler Blvd; Suite #1
Phoenix
Wednesday, September 13
Noon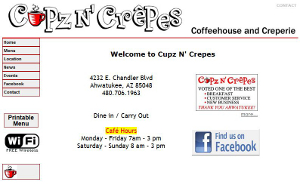 All Lakes residents and their guests are invited to join the Out to Lunch Bunch at noon on Wednesday, September 13 at Cups N' Crepes in Ahwatukee.
According to a recent customer review, "The top feature of this restaurant: its large variety of crepes. Just like crepes from Paris. The owner is always there making sure your experience is all good. You look around the restaurant and its ambiance is like being there, in Paris. For those coffee connoisseurs, you should give it a try, it's coffee quality is supreme."
Some examples of the crepes include: the Turkey Pesto with avocado, tomatoes, cheese and pesto; The Shirley, cream cheese, Nutella and strawberries with whip cream and chocolate sauce; Cordon Bleu, chicken breast, ham, Swiss cheese, mayonnaise and spicy mustard. There is a vegetarian option consisting of baby spinach, red onion and feta cheese.
Examples of salads include: Cranberry Spinach Salad, Mandarin Orange, Classic Cobb and Caesar.
Please make reservations at the Clubhouse no later than Monday, September 11. Let us know if you need a ride, as we will carpool from the Beach and Tennis Club at 11:30 AM for a 12:00 luncheon.
Cups N' Crepes is located at 4232 E. Chandler Blvd. Suite #1, Phoenix on the Northeast corner of 42nd Street and Chandler Blvd.
Please call April Sapinski if you have any questions. Home: 480-831-7228 Cell: 602-430-4413.
Histories and Mysteries
Third Thursday of Each Month
The Lakes Book Club met to discuss The Immortal Life of Henrietta Lacks by Rebecca Skloot, the story of a poor black woman whose cancer cells, known throughout the scientific world as HeLa and taken without her permission in 1951, were responsible for multiple scientific discoveries such as the polio vaccine, cloning, DNA mapping, in vitro fertilization to name a few. The discussion addressed the collision between ethics, race, scientific discovery and the impact on her family.
The Book Club will take a summer break and meet next on Thursday September 21 at 7:15. We will be discussing City of Bones by Michael Connelly. This is his eighth mystery novel featuring LA detective Harry Bosch. The story begins when a dog digs up a bone in Laurel Canyon and it turns out to be human.
For more information contact Patsy Policar at perkypatsy@cox.net or michaelfritz905@msn.com. The group welcomes new members and suggestions for books to read.
Submitted by Patsy Policar