Luminarias in The Lakes
Light Up The Lakes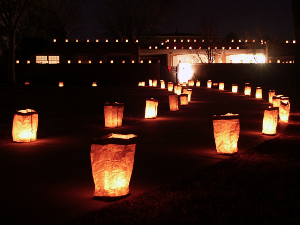 A local Boy Scout Troop is again offering ready-made luminaries to be delivered to your door on Saturday, December 17. Luminarias are small paper lanterns; typically a candle set in sand in a paper sack and set out on Christmas Eve or during the holiday season.
Order now!
It's not too early to order your Luminaries now at the Lakes Beach and Tennis Club. You can print the order form, fill it out and place your order at the Clubhouse.
Luminaries are $8 per dozen and you can order as many dozen as you wish. They make wonderful gifts for your neighbors and other Lakes residents.
This is a wonderful partnership where everyone benefits: we have beautiful luminarias to light up the Lakes on Christmas Eve (or anytime!) and the Boy Scouts provide a service that nets them funds for needy local Rover school families. A win-win!
Sign-up now at the Club no later than December 16 and make this the holiday year that we really light up the Lakes with luminarias.
Sponsored by The Lakes Women's Club
Lakes Giving Tree
A Lakes Tradition
Every year the Lakes Women's Club places a small tree in the lobby of the Beach and Tennis Club covered with tags bearing the names of children from nearby Tempe schools. Each of the names represents a child whose holiday might be greatly brightened by a small token of your care.
Please take a tag and buy a gift or gift card for a child whose name, age, and gender are indicated. Wrap the gift and return it to the Giving Tree with the tag on the outside so that the name is visible no later than December 12 so the gifts can be delivered to the schools for the children.
Thank you.
Lakes Lighted Boat Parade
All Lakes residents are invited to come to the Boardwalk at Pier 54 at 6 PM Saturday, December 17 to enjoy cookies and hot chocolate and watch the lighted boats parade around Christmas Island. The Lighted Boat Parade is a family-fun annual event hosted by the Lakes Activity Committee and is a long-time Lakes favorite activity.
Boat Owners:
Whether you own a pontoon, pedal boat, or kayak, you are invited to decorate your boat for the holidays and please participate in our Lighted Boat Parade.
Decorate your boat with lights powered by batteries/inverter or generator and other holiday decorations and register at the Beach and Tennis Club please no later than Friday, December 16. Fun gifts for every participant! There will also be BIG prizes for first and second place winners. And there's a People's Choice Award! Download the entry form and register at the Clubhouse.
Register at the Beach and Tennis Club by Friday, December 16.
Here's the schedule for Saturday, December 17:
Boat Parade Schedule

| | |
| --- | --- |
| 6:00 PM | Boats will begin parade around Christmas Island |
| 7:00 PM | Judging results will be announced at the Boardwalk |
| 7:15 PM | Cruise the Lakes waterways |