Santa at Christmas Island
Sunday, December 6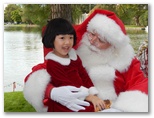 Santa is coming again to Christmas Island Sunday, December 6 between 10 AM and 2 PM.
Instead of canned food drive this year, Santa is asking for monetary donations for Ryan House which is a hospice for critically ill children and their families. All donations to Ryan House are tax deductable. Checks are accepted. For more information you can visit www.ryanhouse.org.
In order for all children to be able to visit with Santa, please limit your picture taking so that all in line have a chance.
The last boat over to Christmas Island leaves the Boardwalk at 1:30 PM. Don't miss it. Thank you.
By Alecia Kindgren
Lakes Lighted Boat Parade
Saturday, December 19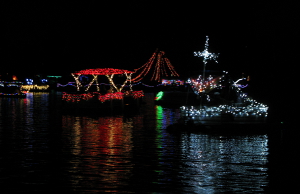 The Lakes Activity Committee will host the annual Lakes Lighted Boat Parade Saturday, December 19 at 6 PM at the Boardwalk by Pier 54. All Lakes residents are invited to enjoy hot chocolate and cookies and watch the lighted boats circle Christmas Island.
Whether you own a pontoon, pedal boat, row boat, or kayak, you are invited to decorate your boat for the holidays and please participate in the Lakes Lighted Boat Parade. Judges will award prizes for first, second, and third place winners and everyone will vote for a People's Choice award. All decorated parade boats will receive a prize for participating.
Lighted Boat Parade Schedule
Saturday, December 19

| | |
| --- | --- |
| 6:00 PM | Parade around Christmas Island for judging |
| 7:00 PM | Judging results announced at the Boardwalk |
| 7:15 PM | Lighted Boats will cruise the waterways |
Boat owners:
Decorate your boat with lights and other holiday decorations powered by batteries and an inverter or with a generator and register at the Clubhouse please no later than Friday, December 18.
Prepare in advance and make sure you have fully chargeable batteries. Deep-cycle batteries with full capacity, can be found at Costco or any RV or marine store.
An inverter with adequate power can be purchased also at RV or marine stores. Inverters are much quieter and less weight than generators. It's recommended to dedicate additional batteries only for your holiday lights. Determine if you have enough power by placing your planned lights (try LEDs) on your dock first and charging them with your battery/inverter combo.
Have fun and be creative! If you have any questions, contact Maureen at 480.540.3029
Presented by The Lakes Activity Committee