LWC Welcome Breakfast
Season Kickoff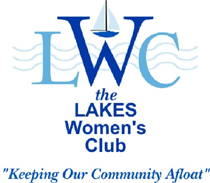 All Lakes Women are invited for breakfast, Saturday October 8 at 9:30 AM in the Beach and Tennis Club. This is the traditional kick off of the 2016/2017 Women's Club season.
It's a wonderful chance to meet and welcome new neighbors, as well as get re-acquainted with old friends and neighbors after the long hot summer.
Come out and see what the Lakes Women's Club is planning – whether it be a social event, charity fund raiser or community service project, we always have a good time!
Rene Ballou Project Nite-Nite
Remember in the spring when you donated items in the Beach and Tennis Club lobby for the Rene Ballou Project Nite-Nite? The LWC filled 100 backpacks with blankets, books, stuffed animals & hygiene items for needy children and we donated them to the East Valley Child Crisis Center.
The Director of the Center was so excited to receive our donations that she asked to personally thank us! She has been invited and will attend the LWC Welcome Breakfast on Saturday, October 8 to meet with us and tell us about the Center.
Breakfast is on us, so please plan to attend and be a part of the community. We'd love to see you.
LWC September Meeting Date Change
In September, because so many LWC members are still on vacation and unable to attend, we are going to move this month's meeting back one week to Thursday, September 8.
Our regular monthly meetings are at 6:30 PM on the first Thursday of each month. We go Out to Lunch on the second Wednesday and meet for Happy Hour on the third Thursday of each month.
And it's not too soon to be thinking about the annual Lakes Garage Sale in November!!
Launie Harlacher, President
Oktoberfest at The Lakes
Fall Season Favorite
Take out your dirndls and lederhosen, and join us for the annual Oktoberfest at The Lakes on Sunday, October 23 from 4 – 7 PM.
We are excited to announce that the Varitones will be performing. They are a high energy Polka Band that entertains around the valley!
We will be serving traditional German food including bratwursts, hot dogs (for the kiddos), sauerkraut, potato salad and dessert. There will be water and lemonade to wash it down with, but as usual, feel free to bring your own beverages.
There will be a Halloween costume contest and parade for kids 14 and under, as well as a craft table.
Tickets are on sale now at the Clubhouse. Admission is $6 for ages 13 years and older; $3 for children 4 – 12 years old; and children 3 years old and under are free.
Be sure to get your tickets today and join us for a yodeling good time!
It's Time for the Lakes Artisan Fair
Write it on your calendars
This year we host our annual Lakes Artisan Fair on Sunday, November 12 from Noon until 4 PM in the Beach and Tennis Club large park. It is an event that offers a relaxing afternoon of wandering through the park and an opportunity to view and purchase arts and crafts made by local artisans from all over the Valley.
The holidays are creeping up and our Artisans Fair is a perfect place to find that one of a kind gift.
This is also a call out to our Lakes artists to join in. If you would like a spot, or know of anyone who would be interested, please email or call Gay Cutter at 602-499-0870 or email us at ArtisanFair@TheLakesofTempe.com.