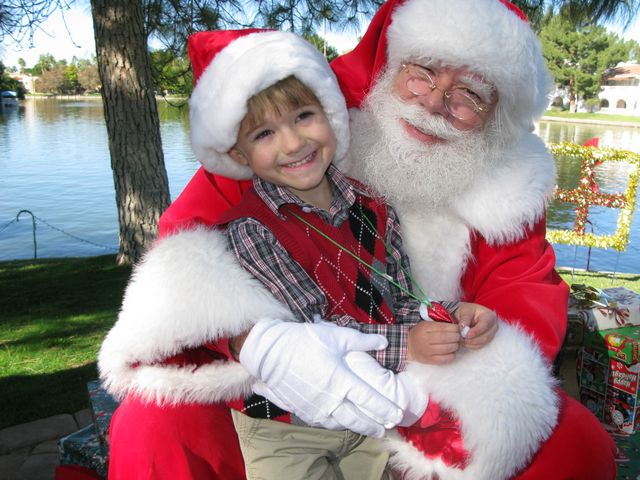 Santa Comes to Christmas Island
Happy Holidays
Christmas Island, Sunday, December 8 between 10 AM and 2 PM. Instead of canned food drive this year, Santa is asking for monetary donations for Ryan House which is a hospice for critically ill children and their families.
All donations to Ryan House are tax deductable. Checks are accepted.
For more information you can visit www.ryanhouse.org.
In order for all children to be able to visit with Santa, please limit your picture taking so that all in line have a chance.
The new Watershed Restaurant on Lakeshore will be open that morning for breakfast so you can enjoy the new restaurant and see Santa all in the same day. Thank you.
By Alecia Kindgren
Lighted Boat Parade
Saturday, December 21
Decorated Boats
Parade around Christmas Island and Lakes waterways
Boaters: Get ready for another fun parade. The parade starts 6 PM at Christmas Island with judging at 6:45 PM.
Land-lovers: Get ready to enjoy the Lighted Boat Parade and goodies at the Watershed patio.
Sponsored by Lakes Activity Committee
Planning and Planting for Fall and Winter Months
Stella Calvert, Master Gardener
The monsoons were wonderful this year and we should start seeing temperatures dropping to breathe a sigh of relief for you and your garden. Now is the time to start planning and planting for the fall and winter months.
A three-step plan for establishing a beautiful ryegrass lawn: Read more »
Qi Gong 18 Style Classes
Taught by Julia and Tommy
Renew, Rejuvenate and Revitalize with Qi Gong 18 Style at the Lakes weekly 'Learn-By-Doing' sessions taught by Julia and Tommy McDonnell. No experience necessary.
Join us on Tuesdays and Thursdays from 6:30 -7 PM. $5 per session or $35 per eight session punch card.
Music Story Time
Lakes Parents with Small Children
Did you know that the second Wednesday of each month we host a music time/story time event for the kids at the Clubhouse? Many of you have joined us and are participating in the fun, but there are many more parents and kids we haven't seen yet.
We want to get to know you!
Come join us for 30 minutes of learning, music and fun from 9 - 9:30 AM upstairs in the Clubhouse! This is a great opportunity to have fun spending quality time together. Spend 30 minutes with your child together with other Lakes families and enjoy enriching our lives together. Hope to see you there!
Submitted by Lindsey Crosland
Community
Manager's
Update
Happy Holidays
December 5
We wish our Lakes friends and neighbors all the warmth and happiness of the season and a new year rich with blessings.
View previous Community Manager updates on the Community Manager Update page.
---
Holiday Hours
Clubhouse

| | |
| --- | --- |
| Christmas Eve | Close 2 PM |
| Christmas | Closed |
| New Year's Eve | Close 2 PM |
| New Year's Day | Noon - 10 PM |
LCA Office

| | |
| --- | --- |
| Christmas Eve | Close 2 PM |
| Christmas | Closed |
| Thursday, Dec 26 | Closed |
| New Year's Eve | Close 2 PM |
| New Year's Day | Closed |
Coming Up
The Lakes Holiday Angel Tree
November 25 through December 15
Santa at Christmas Island
Sunday, December 8; 10 AM to 2 PM
Light The Lakes
Saturday, December 14; 7 PM
Lighted Boat Parade
Saturday, December 21 at 6 PM
Snow Frolic
January 1, 2014
---
From fitness schedules to board and club meetings, you can find the dates you need in the Lakes Calendar. Bookmark it!