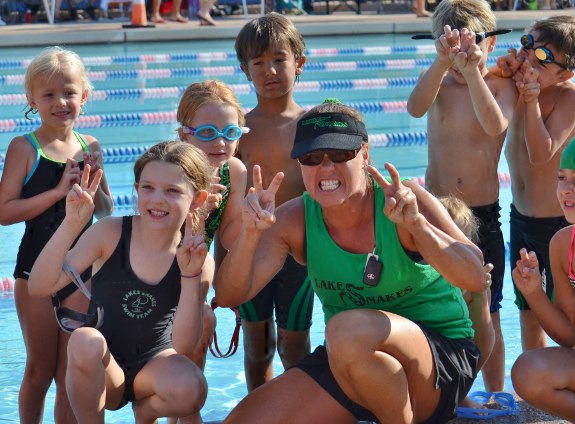 Swimmers' Dedication Earns Coaches' Praise
Go, Snakes!
The Lakes Snakes continued to perfect their strokes, technique and stamina while training at daily morning practices through July. These swimmers' dedication paid off as they all improved, posting faster times in competition. Following a short break in action for the Independence Day holiday, the Snakes traveled to Val Vista Lakes for a tri-meet including Team Tempe.
The Snakes performed exceptionally well with 13 swimmers posting season best times in ALL FOUR events:
Kennedy Farnsworth
Jack Fein
Sebastian Gongora
Joshua Hackett
Micah Hartwig
Haley Johnson
Lexi Lamond
Nick Murray
Jimmy Nagle
Kona Ream
Riley Rehill
Kate Smith
Ella Zeiders
Additionally, 10 swimmers performed best times in three events:
Alysia Aguirre
Samantha Arredondo
Kate Bonham
Brooklyn Bosman
Isaac Crowell
Hayden Matykiewicz
Connor Miller
Reesa Mueller
Ehsa Murray
Danny Sargent
Snakes coaches decided to recognize five individuals for swimmer-of-the-meet who performed 4 personal best times and have improved their combined times by more than 20 seconds since the beginning of the season. Way to "shed" seconds off your times:
Jimmy Nagle – 63 seconds
Micah Hartwig – 46 seconds
Lexi Lamond – 35 seconds
Jack Fein – 23 seconds
Ella Zeiders – 20 seconds/li>
Finally, the team rounded out the season at the East Valley Finale Meet at the Seville Golf & Country Club. Post-season competition continues with the APRA State Meet where many of our swimmers are sure to earn medals. All swim team members and volunteers were recognized at the End-of-Season Celebration on Thursday, July 21 at the Lakes Beach and Tennis club. A barbeque and potluck dinner was followed by the presentation of certificates, medals, and achievement awards in each age group. Another great season of summer swim instruction, competition, and good times with teammates has concluded!
A special thanks to the Lakes Snakes coaches and committee members for all their dedication and hard work that enables this annual Lakes tradition to bring families together and create special memories for so many young athletes.
by Suzanne Reddie
The Lakes Snakes
Swim Team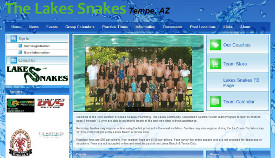 swimteam@thelakesoftempe.com
Questions? Contact the team through the team's email address.
Register online at the new Lakes Snakes Swim Team website lakessnakes.com. Swim team members will find important information there: news, meet and event schedule, team information and contacts, location and maps to away meets as well as the merchandise order form. Check it out.
2016 Meet Schedule
Date
Location
June
11
Sat
Las Sendas & Seville
The Lakes
June
18
Sat
Maricopa Marlins & Pitchfork Aquatics
The Lakes
June
21
Tue
Dobson Ranch Dolphins
The Lakes
June
25
Sat
Arrowhead Sea Lions
Arrowhead Pool, Chandler
June
30
Thu
Red, White & Blue Relays
The Lakes
July
1-5
Independence Day Holiday Break
July
9
Sat
Team Tempe & Val Vista Lakes
Val Vista Lakes
July
16
Sat
Casa Grand & Las Sendas
The Lakes
July
15-16
Fri/
Sat
East Valley Championships
Mona Plummer Aquatic Center, ASU
July
23
Sat
APRA Swimmer's Classic
Kino Aquatic Center, Mesa
Practice Schedule
Monday - Friday

| Age Group | Start - End |
| --- | --- |
| Older Teens | 6:30 - 7:30 AM |
| Age 9 to 12 | 7:30 - 8:30 AM |
| Age 5 to 8 | 8:30 - 9:15 AM |
Pool Hours for
Meet Days
For the Saturday meets which begin at 7 AM, the pool will be closed Friday night at 8 PM so that we can prepare the area in advance.
The pool will close at 2 PM for mid-week meets that begin at 5 PM. Following mid-week meets, the pool will remain closed for the rest of the night for clean-up.
Otherwise, the Pool will be open for general use as soon as meets or practice is over and the area is clear.